Let's Get Started
There's always something exciting happening at Southampton Summer Day Camp! Be a part of a friendly camp community that's always abuzz with activity as campers enjoy old time favorites as well as experiencing new ways to have fun.
Since its founding in 1973, Rick and Jacquelyn Blum, creators, owners and Directors of Southampton Summer Day Camp, have provided recreational and cultural activities for campers. Both are experienced educators and have taught in the Elementary through High School grades. Rick's lifelong love of athletics as a player and coach continues to provide SSDC with innovative ideas to motivate campers to build on their own achievements.
Southampton Summer Day Camp has earned accreditation through the American Camp Association achieving its highest ranking. Located in Upper Southampton in beautiful Bucks County, Southampton Day Camp offers the finest in day camping for boys and girls ages 3-14.
SSDC is a traditional 8 week, Monday - Friday experience that offers a varied and well planned program of recreational and cultural activities, clubs, leagues and tournaments. Camp is closed for the July 4th holiday. Limited 4 week sessions are offered during the first or last four weeks of the summer camp season. Full day or Mini Day (9-1:30) is offered for 3& 4 year old campers. For Mini Day, parents transport their campers.
CAMP HOURS- Campers arrive on camp provided transportation between 8:45 AM and 9:05 AM, in organized stages depending on the mode of transportation. Camp end of day dismissal starts between 3:40-3:45PM.
Parent Provided Transportation, within the normal camp day, can start at 8:30AM, with most campers arriving at 8:45AM. Parent pick up is at 4:00PM- 4:15PM.
EXTENDED DAY- Extended Morning Care opens at 7:00AM, Extended Afternoon Care concludes at 6:00PM. Please feel free to give us a call at 215-355-4567 for details and fee information.
Transportation is provided, with door to door service. Drivers 21 yrs+, and all vehicles are subject to stringent safety and insurance standards. Parents can opt to drive their children within the normal camp day and receive a rebate per camper.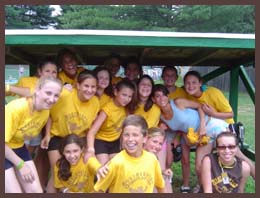 All staff 18 years+ are required to supply state clearances. Southampton enjoys having the majority of our staff ( Senior Counselors, Specialists & AC & JC's), being our own SSDC alumni who love camp so much that they look forward to returning each summer to pass on the magic of camp to our campers.
Our successful Leadership Program for campers ages 13 & 14, provides your young teen with "Fun, Friends & Leadership". Preplanned, out of camp trips are a much anticipated highlight as well as in camp projects and community service events.
Our Facilities & Program
Complementing our spacious fields and courts, ample mature shade trees and tents are strategically located throughout the grounds. The camp property is nestled next to natural parkland in addition to our own wooded areas. Water misters are located on the grounds to refresh anyone interested in cooling off between activities. Water fountains and auxiliary water stations are also located throughout the grounds.
AQUATICS
Three sparkling, newly refurbished, heated swimming pools with instructional swim programs using the American Red Cross Program await our campers. Water Safety Instructors & Lifeguards are certified by the Red Cross. Campers enjoy the diving boards & colossal water slides during recreational swim, all under the watchful eyes of our Aquatics Staff. Themed fun days at the pool always make swimming a special treat.

CAMP INFIRMARY
The infirmary is staffed by two Registered Nurses who take care of our campers and staff with extra TLC. Our nurses have been at camp for many years and know our campers. They treat new campers with the same love and good care. They enjoy doing what they do!
We truly believe that each child and staff person has the right to feel safe and cared for at camp while enjoying activities that are fun and build self esteem and give a sense of community and belonging.
PERFORMING ARTS
A complete indoor area for the creative arts, staffed by experienced dancers, singers, actors and artists with special guests offering workshops. A professional dance studio makes all those happy dancing feet feel like they're on Broadway! Performing Arts consists of Music, Theatre and Dance. For campers who really enjoy The Arts, camp offers a Dance Club and a Musical Theatre Club, both of which culminate in a much anticipated end of the season show for families and campers!
RIDING CORRAL
Campers enjoy a riding program that caters to the youngest pony rider up to the seasoned club rider. Campers also learn how to be safe around horses and pony care! The ponies always love having their "hooves done", a cool bubble bath and combing.
NATURE AND OUTDOOR CHALLENGE
Our private, spring-fed lake provides good waterfront for our small craft; enthusiastic anglers net or catch their fill from a variety of fish, turtles and frogs. Nature hikes and outdoor discovery are a highlight. The Outdoor Challenge Course was designed with the "thrill factor" in mind. A Zipline allows campers to fly across the lake and elements like The Leap of Faith afford opportunities to exercise skill & courage. Campers can try low and high challenges for individual achievement and team building. There's always a challenge waiting at the Climbing Wall for its next climber. Air Bungee is always a blast that conjures up the feeling of flying free like an acrobat. There's even a Junior Zipline for our little owls! It's a real thrill!
Nature is hike based and is enhanced by cool projects and all things common and unique that we find on our scouting adventures. There is always something to check out at the Nature Den; there's something for everyone! Cool bugs, snakes, baby chicks, rabbits, owl pellets, plant life, even simply exploring the life under tree bark. It's great to appreciate the outdoors and be together.
ATHLETIC AREAS
Spacious ball fields and courts as well as numerous hardtop areas enhance skill development in soccer, softball, tennis, basketball, hockey, volleyball, golf, archery, handball, touch football, newcomb, box ball and many other sport activities. Our modern, indoor, state of the art collegiate style Fieldhouse and Gymnasium offers flexibility to play anything involving sticks, balls and feet, rain or shine.
DINING FACILITIES
Our modern, air conditioned Dining Room makes lunchtime even more enjoyable and social. Our lunches, supervised and prepared by our own Executive Chef Brian Bowman (Johnson and Wales Culinary grad), really rock with daily choices and salad bars, with cool music wafting through the air. Campers also enjoy either a morning or afternoon snack. We are not a peanut free facility, but work with campers and parents to provide a safe environment for all campers.
ACTIVITY CENTERS
"The Arena", an open-air recreational facility easily accommodates first class B-Ball and Box Ball. "The Barn" houses the gymnastics program complete with safe, challenging equipment. Our Playground is cool with lots to keep feet and hands busy from the Big Ship to the Mini Zip Line and assorted eye appealing, climbing apparatus. Our own Little Hoot invites all to play in "Little Hoot's Playhouse" - a multi colored, fully enclosed maze of climbing tubes, slides and amusements that lets our climbers peer over the pools and beyond to Hampy's Woods.
Many of our activities and programs are what you should expect to find at a quality summer camp...
Archery and Marksmanship, Volleyball, Boating, Fishing/Netting, Tennis, Softball, Gymnastics, Street, Field and Floor Hockey, Knock Hockey, Basketball, Soccer, Newcomb, Mini Golf, T-Ball, Bankshot, Professional Gaga Pit, Frisbee Golf, Lacrosse, "make and taste" treats in Hampy's Kitchen and a Computer Room for all ages!
At Southampton Summer Day Camp our campers also look forward to...
An awesome collegiate style Fieldhouse for indoor athletics of all kinds with full size Basketball and Volleyball courts as well as Indoor Soccer...
A Private Lake...
A professional Dance Studio...
An Outdoor Challenge Course with a Zip Line across the Lake, a Climbing Wall and Air Bungee...
A fully packed Arcade & Game Room...
An Instructional Tennis USTA Quick Start Program and tournaments...
A horse corral for riding and caring for your favorite pony...
A full Arts & Crafts Program, including Ceramics...
An innovative, shoes off, Climbing Maze with unique play spots for dreaming...

After Camp Specials

for our younger campers,

Late Nights

for older campers...
Well organized Soccer, Softball, Newcomb, Volleyball and Basketball Leagues...
Special Events such as Bunk Talent Show, Hampy's Big Birthday Splash Blast, Olympic Week, Carnival Week with Carnival Rides, Carnival Booths and Real Circus Performers who teach us just how to do those tricks!
Color Games, All-Star Games, Championship Playoffs and Variety Shows...
Club Choices
Varsity Camp pre planned out of camp trips for our 5th and 6th graders...
Making memories with resident owl mascots; Hampy, Honey and Little Hoot...
Weekly awards and recognition in every bunk for Camper, Sportsmanship, and Athlete, as well as Seasonal awards with the Arts and Swim achievements also recognized.
We truly believe that each child and staff person has the right to feel safe and cared for at camp while enjoying activities that are fun and build self esteem and give a sense of community and belonging.
We proudly offer personal tours of our camp grounds year round by appointment. We welcome the opportunity to meet your family and share with you what a Southampton Summer Day Camp summer is all about!
Sincerely,
Rick & Jacque Blum